At one point this offseason, Saquon Barkley admitted he was prepared to hold out of training camp as his contract negotiations with the New York Giants weren't going the way he hoped. Both sides couldn't find common ground, and the franchise tag extension deadline eventually passed without a signing on the dotted line for a long-term deal. 
But Barkley told reporters Thursday that he "had an epiphany," one that led to him signing his franchise tag – which the Giants bolstered a bit with some incentives – and not missing a single day of training camp despite a deal not getting done. 
What exactly was the epiphany? 
CLICK HERE FOR MORE SPORTS COVERAGE ON FOXNEWS.COM
New York Giants quarterback Daniel Jones (8) hands the ball to running back Saquon Barkley on the first day of training camp at Quest Diagnostics Training Center in East Rutherford, New Jersey. (Danielle Parhizkaran-USA TODAY Sports)
"The reality of it is, I mean, one, I kind of just followed my heart," Barkley said after day two of camp in East Rutherford, N.J. "Obviously, I heard what everyone was saying in the news and on social media, but I kind of just followed my heart. And then you've got to look at it from a business point, from a business view. I felt like, what's the best thing that I can do? Some people may agree or disagree with this, to sit out or sit in, and I feel like for this year specifically, the best thing that I can do for myself would be coming back, going out there and play the game that I love, playing for my teammates, doing something that I've wanted to do since I was a little kid."
"Obviously, I know what's going on with the running back situation and me being tagged and the value of the running back continually going down. The only way that I feel like that's going to change is someone has to make it change. God willing, hopefully I can be one of the people to do it."
GIANTS' SAQUON BARKLEY MAKES FAN'S SUMMER AFTER RESPONDING TO DESPERATE SIGN AT TRAINING CAMP
The running back market has crashed in recent seasons, and players like Barkley and Las Vegas Raiders star back Josh Jacobs felt it when they went to negotiate long-term deals. Several veteran running backs, including Barkley, have spoken out about the depleted market, to the point where Los Angeles Chargers' Austin Ekeler set up a Zoom call with his running back peers to discuss the market and how to move forward.
Barkley said he would be lying if he said he wasn't disappointed in how his nine and a half months of negotiations ended, but after consulting with his family and others within the game, he came to the conclusion that it wouldn't have been right to hold out.
"Wise words of a lot of vets who've reached out to me and who have said some stuff on the news and media, 'When you show up, you can't have that in your heart.' It's not a good thing to have in your heart," Barkley said. "So, I put all that aside. My focus is on my teammates, everyone in that building and the fans, and to go out here and have a hell of a year."
The No. 2 overall pick from the 2018 NFL Draft added that his spirit and love for the game hasn't been broken because of how this all played out.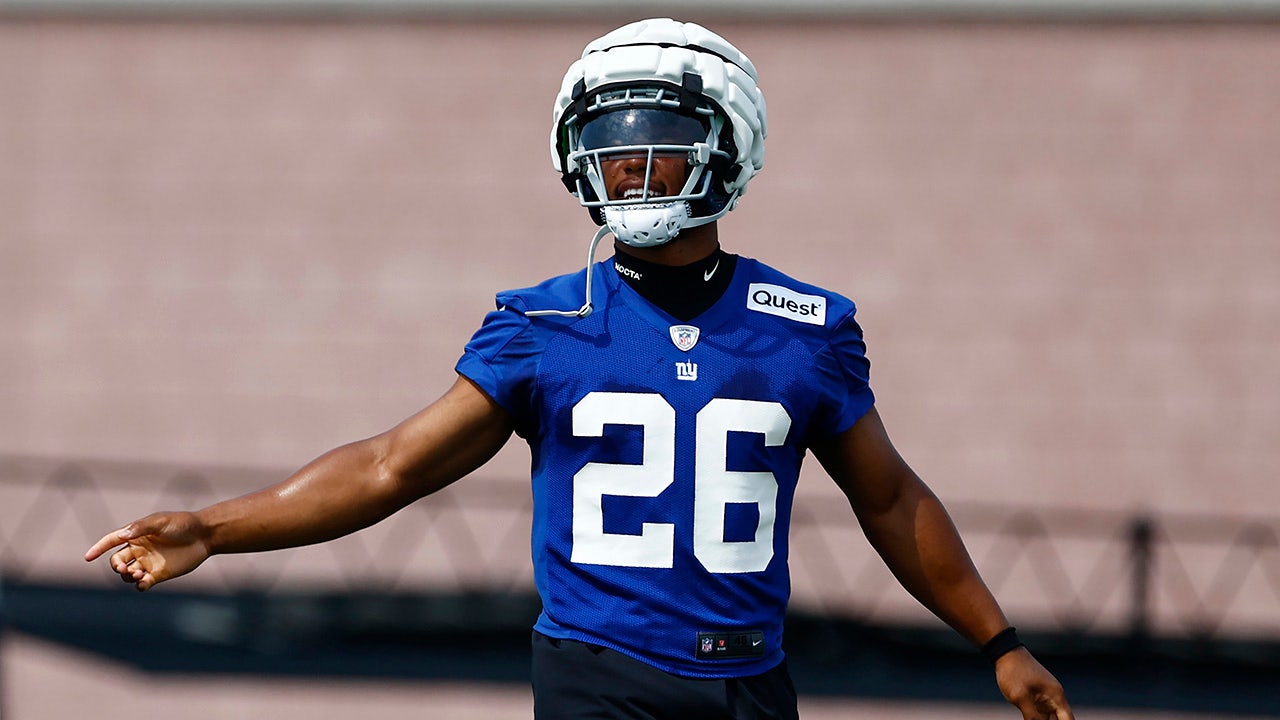 Running back Saquon Barkley of the New York Giants is shown at Quest Diagnostics Training Center on July 27, 2023, in East Rutherford, New Jersey. (Rich Schultz / Getty Images)
"I know what (the business) is, I understand it, but I'm never, ever, ever going to let anybody or anything break me down and tear me apart and change who I am," he said. "I know who I am as a person, and I know how my parents raised me. At the same time, there are a lot of kids that are looking at me and looking at the situation – my own kids – and I want to be an example to them. Take it day by day and do the right things and good stuff will come your way."
Barkley is focused on his teammates, his own progress in training camp, and most importantly, continuing to be the driving force for an offense that was rejuvenated under head coach Brian Daboll in his first season with the Giants – a season that not only led to a playoff berth but the first playoff win for the franchise since 2016.
BROWNS' NICK CHUBB ON RUNNING BACKS' FREE-AGENT MARKET: 'WE'RE KIND OF HANDCUFFED WITH THE SITUATION'
All Barkley can do now is continue to perform at an elite level and, as he said, hope that it ultimately leads to that long-term pact.
And if that happens, perhaps it can help end the talk about how running backs don't matter anymore.
"I know how great this position has been, I know how helpful this position is to teams throughout the league," he said. "When you talk about legacy, it's on guys like myself, it's on guys like (San Francisco 49ers running back) Christian (McCaffrey), it's on guys like J.T. (Indianapolis Colts running back Jonathan Taylor) and (Pittsburgh Steelers running back) Najee (Harris) for us to go out there and change the narrative.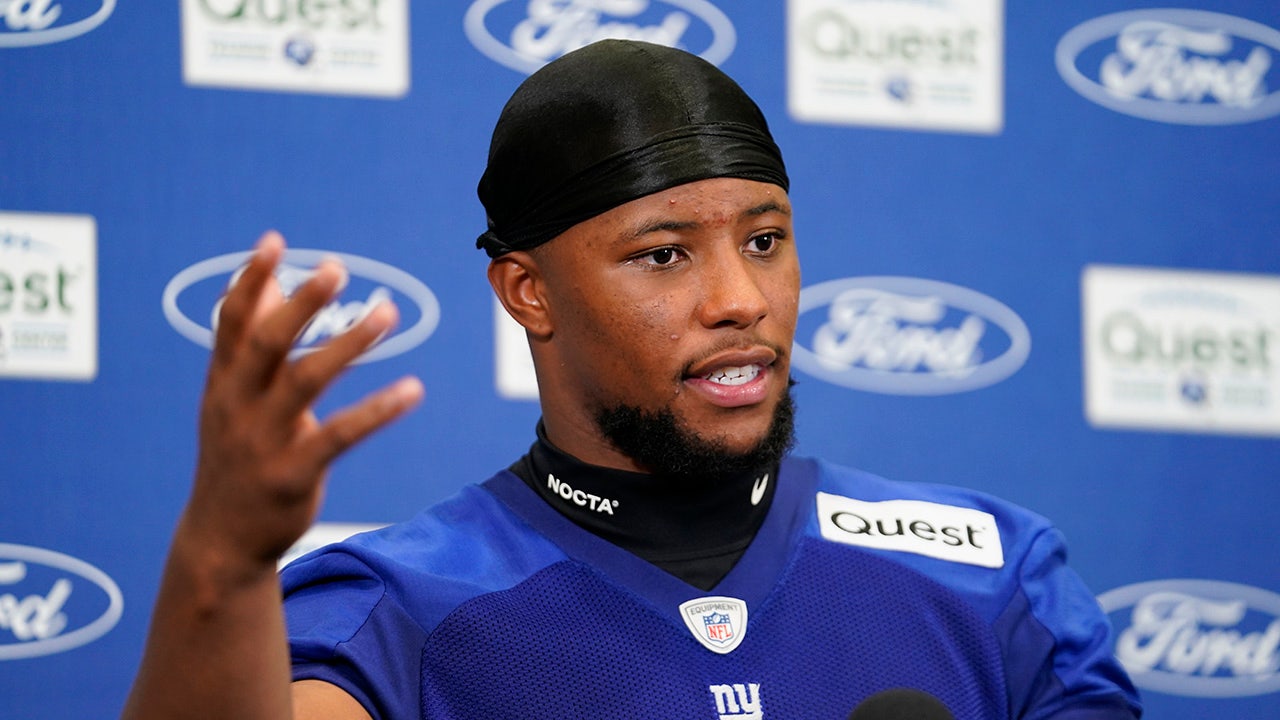 New York Giants running back Saquon Barkley talks to reporters after day two of training camp at Quest Diagnostics Training Facility in East Rutherford, New Jersey. (Danielle Parhizkaran-USA TODAY Sports)
CLICK HERE TO GET THE FOX NEWS APP
"Everyone wants to bring up data, everyone wants to bring up analytics. You could bring up each way for both sides. But if all of us go out there, God willing, stay healthy and do what we've got to do, I think that's going to put everything to rest."
Scott Thompson is a sports writer for Fox News Digital.