The Jordan Love era is officially underway in Green Bay. The 2020 first-round draft pick entered Packers training camp as QB1 as he takes over the starting position from future Hall of Famer Aaron Rodgers.
When the Packers officially traded Rodgers to the Jets, it cleared the way for Love. But the night before the Packers first training camp practice began, Love revealed that his predecessor reached out to him via text.
"He said just be yourself, have fun, enjoy it," Love said. "It's obviously my time now, and he just said be yourself. And I mean, that's all you can do."
CLICK HERE FOR MORE SPORTS COVERAGE ON FOXNEWS.COM
Aaron Rodgers #12 and Jordan Love #10 of the Green Bay Packers walk onto the field prior to the game against the Tennessee Titans at Lambeau Field on November 17, 2022, in Green Bay, Wisconsin. (Patrick McDermott/Getty Images)
Love did not appear in any games during his rookie season, and he spent the 2021 and 2022 seasons serving as the backup quarterback behind Rodgers.
Love has one career start and has appeared in a total of 10 games during his NFL career. The 24-year-old believes his three years of experience make him much more prepared than if he was named the starter as a rookie.
PACKERS CEO SUGGESTS HE'S UNSURE OF JORDAN LOVE'S FUTURE, SAYS IT'LL TAKE 'HALF A SEASON' TO JUDGE QB
"He definitely has complete command of our offense," Packers coach Matt LaFleur said. "There's no doubt about it. He's put the work in."
Love appears to have already won over the locker room, with wide receiver Romeo Doubs saying that "we have the utmost confidence in him."
"We want Mr. Love to feel the love," running back Aaron Jones said. "That's going to bring up his confidence, and I think that's just going to help him play even better."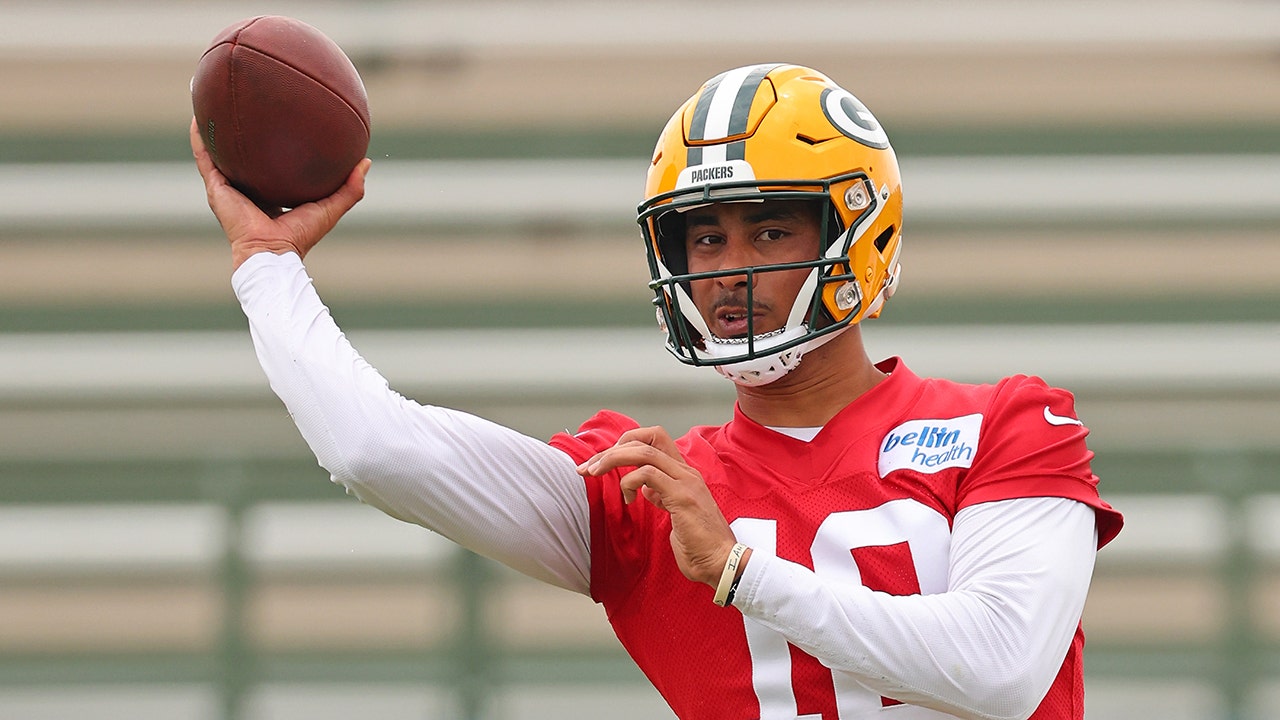 Jordan Love of the Green Bay Packers participates in an OTA practice session at Don Hutson Center on May 31, 2023, in Ashwaubenon, Wisconsin. (Stacy Revere/Getty Images)
Love gathered several of his teammates during the offseason.
After Love, Doubs and running back Aaron Jones worked out together in California before organized team activities and minicamp, they wanted to have a larger gathering leading up to training camp.
Jones said Love spearheaded the project by inviting everyone. The collection of Packers to work out at Santa Ana, California, eventually grew to include receivers Christian Watson, Jayden Reed, Dontayvion Wicks and Jeff Cotton plus backup quarterback Danny Etling as well as Love, Doubs and Jones. Cotton has since been waived.
"Usually in the offseason you're throwing with other people that don't run the same routes that you run in your offense, things like that, so just being able to have that familiarity and build those connections with those guys was awesome," Love said. "We went bowling. We had a couple nice dinners out there. It was a good time to build those connections."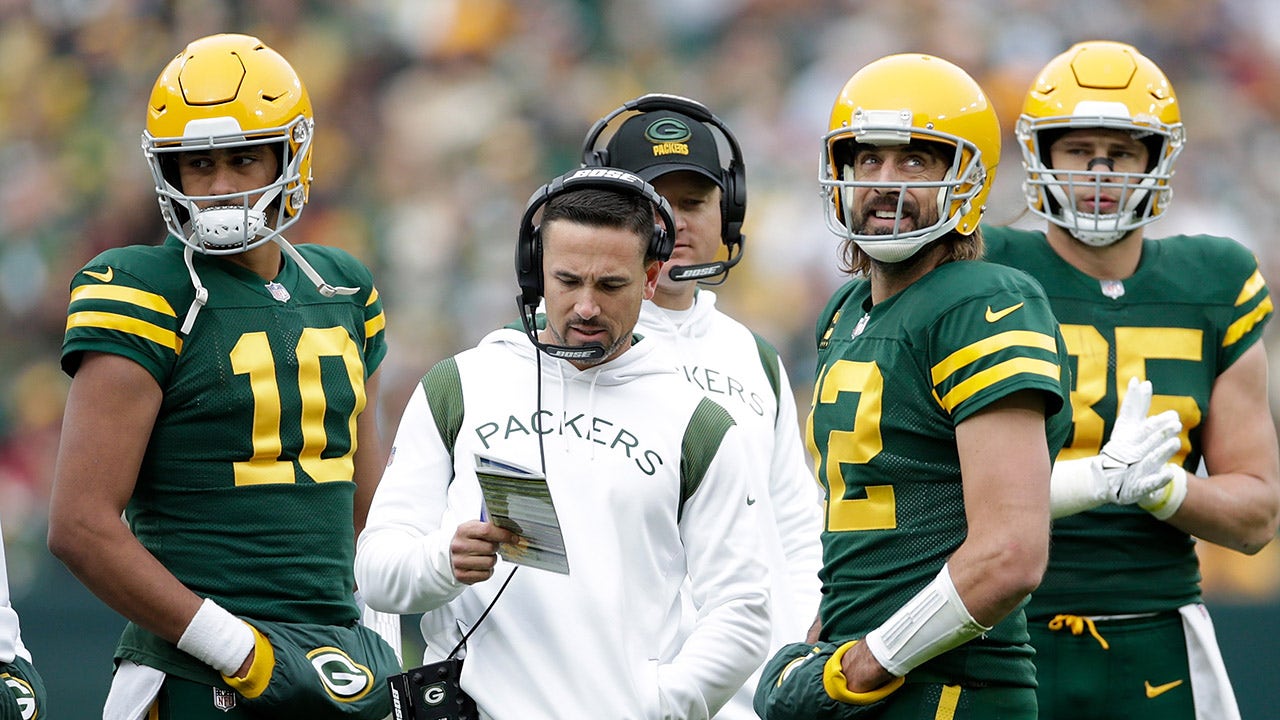 Aaron Rodgers #12 talks with Green Bay Packers head coach Matt LaFleur as Jordan Love #10 listens during the game against the Washington Football Team at Lambeau Field on October 24, 2021, in Green Bay, Wisconsin. (John Fisher/Getty Images)
Jones said the lessons from the California trip already are paying off in practice.
"We're in meetings and coach LaFleur is asking the young receivers questions, and they're able to answer with confidence because we just went over it in California," Jones said. "And Jordan's there with them, and he can tell them why're we're running that play, what we're looking for on that play and what we're trying to accomplish."
CLICK HERE TO GET THE FOX NEWS APP
Love seems focused on doing everything in his power to be the best version of himself as he begins a new chapter in his professional football career.
"That's kind of been the message from everybody," Love said. "Just be yourself. Don't try to be anybody else. Don't try to be Aaron. Just be yourself. And that's kind of what I'm trying to do."
The Associated Press contributed to this report.
Chantz Martin is a sports writer for Fox News Digital.